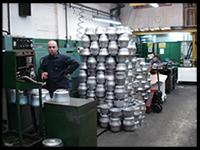 Our company for more than 20 years has been dedicated to the making of ruined and mechanized products in aluminum and zamak alloys.
We are provided with a plant equipped with adapted technology to satisfy the requirements needed by the wide scale of titles that we provide, between which there are the follow industries: Automotive , Civil, Gastronomic, Safety, Embellishment, Petroleum, Chemical, Medicinal, etc.
The modern equipment that we possess offers to us the aptitude to produce pieces from 0,020 kg up to big pieces of approximately 90 kg with demanding requests of completion, resistance and the most diverse conditions of work.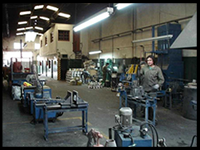 The Engineering Department allows us the design and development in rapid and effective form of new counterfoils or the achievement of his modifications, making minor the cost of making for the completed piece.
For the smelting, we are provided with the last technology in permanent mold, both horizontal and vertical, of diverse dimensions and closing potency, optimizing the production of every counterfoil.
The Mechanized Plant use CNC numerical control machines, in which there are processed the majority of our ruined pieces.
The Quality Department in Smelting and Mechanized assures a certification in the quality of our products.
The constant work of the Investigation and Development Department locates us to the avant-garde of the Metal Industry.